This entry garden near Hendricks Park in Eugene, Oregon is among our favorites, and we are excited to see it featured in this month's Sunset ('The Path Ahead,' p 49 and online). Unlike some of our more complex, colorful spaces, including other areas of the same property, this garden is striking because of its simplicity, a trait that not only inspired the design, but every decision and detail of construction along the way.
Sometimes good design gets out of the way. For this garden, we took the unconventional step of demolishing the existing landscape before beginning design. Removing retaining and free-standing walls, arches and blocky plantings revealed signs of an original gentle grade through native oaks. The architecture of the midcentury modern house, now that we could really see it, was clean and quiet, and there was a minimum of necessary hardscape. The only practical goals we needed to accomplish were to follow the obvious route to the front door and to screen a portion of the driveway. In some situations, we might have massed colorful plantings or included a sculptural feature to add playfulness and energy to the landscape. However, our exceptional client and the wonderful "bones" of the space led us towards the serene, elegant result you see here.
Of course, that doesn't mean that the design was easy. To quote Ron Lutsko, one of our favorite landscape architects, 'You have to think and think to get something simple." So, think we did. If there was an "Aha" moment, it was using a boardwalk and floating deck over the ferny hillside (a notion that had been looking for a home for some time) to draw the strong geometry of the house into the garden. By emphasizing the approach to the recessed doorway, we tied garden and house, integrating two spaces that had previously felt disjointed and making the entrance far more welcoming.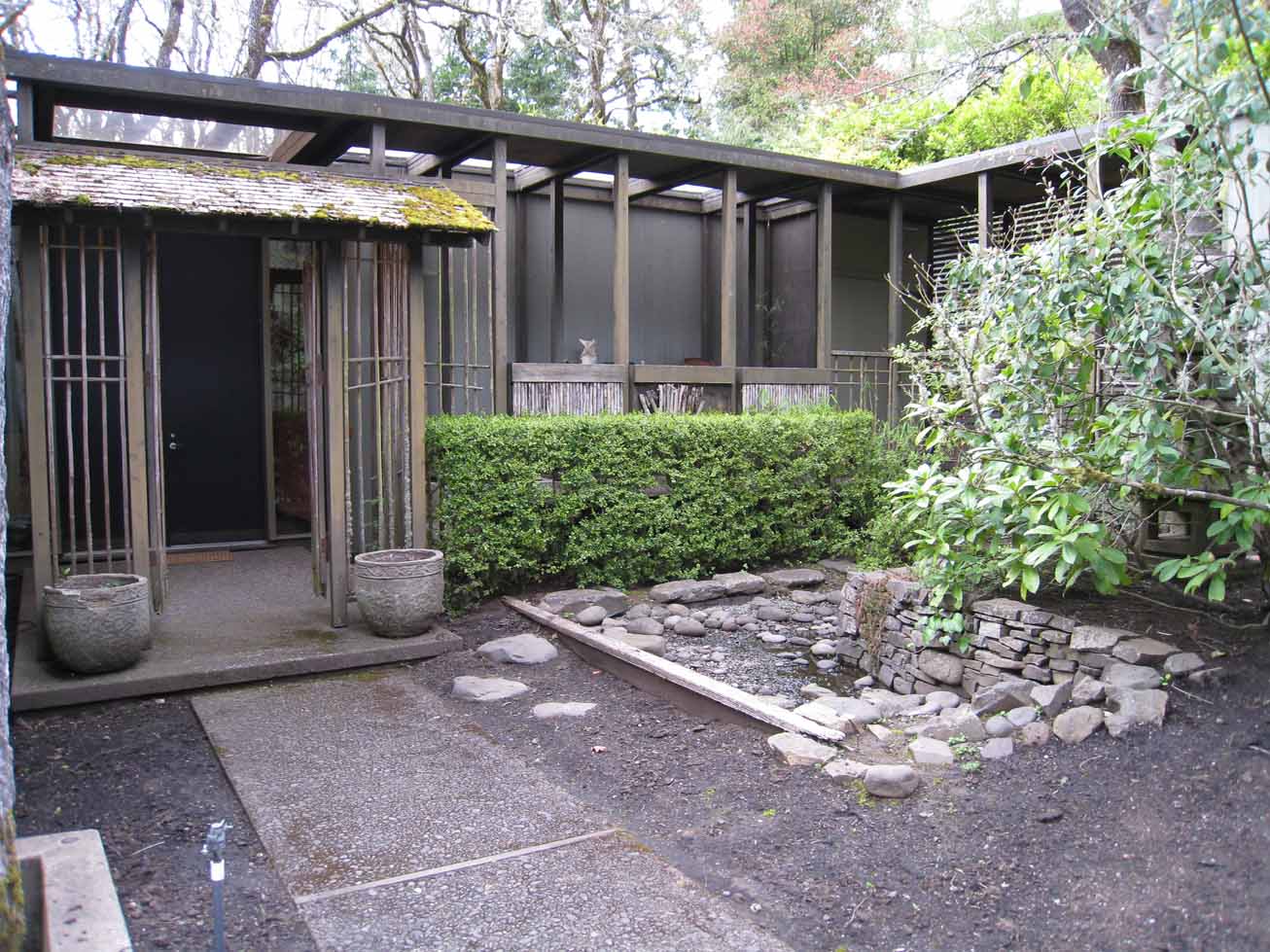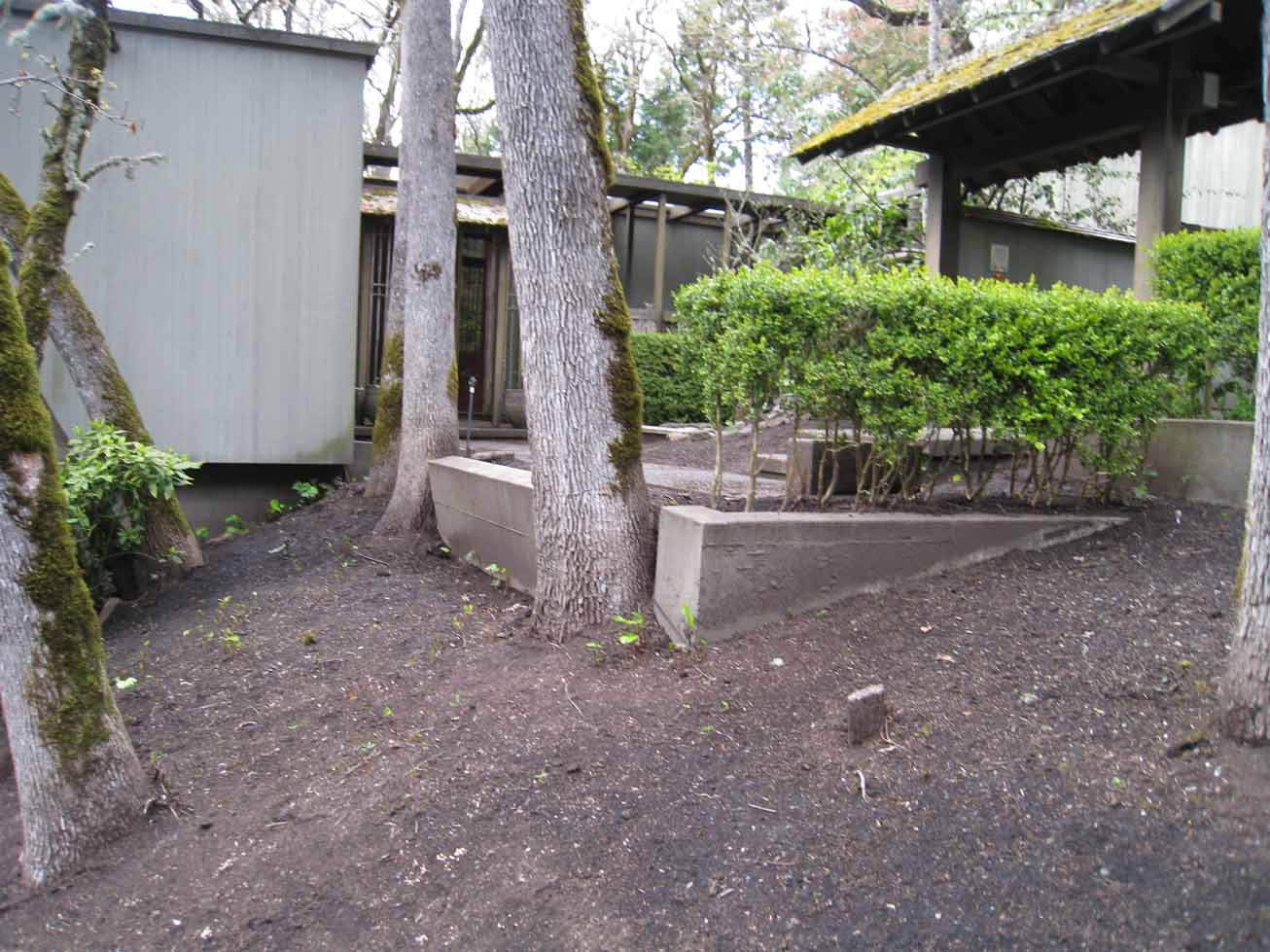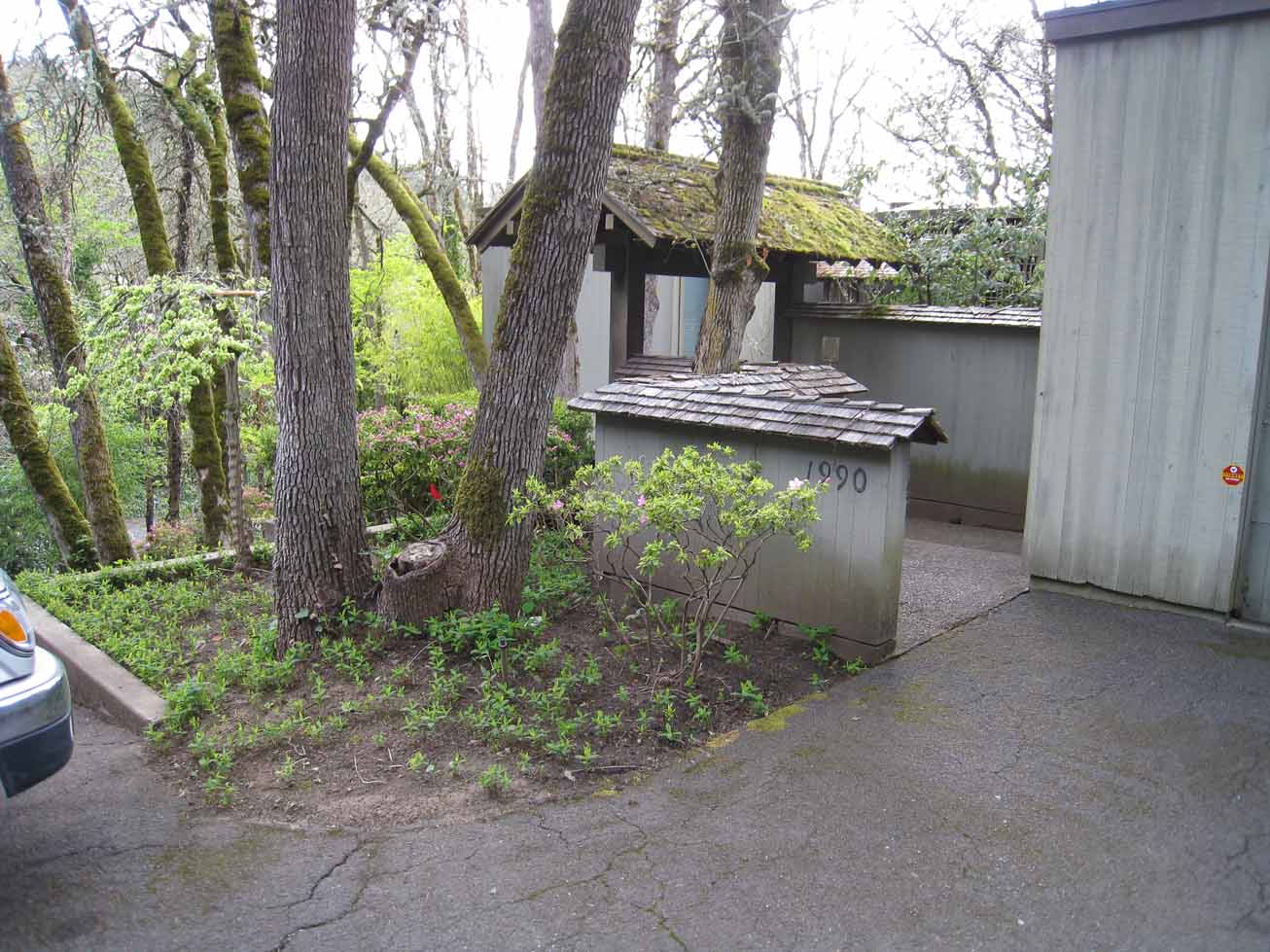 The heart of this design is its simplicity, but its success depends as much on careful installation as on design. The trick of a minimal garden is that every detail counts. From the ground up, each part of the landscape's construction played an essential part in the final product.
Once we had removed the clunky remnants of the original landscape, our first goal was to transform the previously segmented space into a unified whole. We regraded the slope, smoothing its terraces and divisions into a cohesive, natural grade that flows through the garden.
The few "hard" elements of this space are perhaps its most eye catching and therefore crucial to its success. We used a string line to lay out the nail pattern in the deck and boardwalk to avoid erratic, distracting nail patterns. Likewise, we hand-selected and placed the (enormous!) basalt bowl, ensuring that its form and scale settled perfectly into the design.
For the plantings, native Western Sword Ferns were an obvious choice. They are evergreen and their drought tolerance avoids excess irrigation on the native oaks, which prefer little summer water. However, selecting a plant for strategic screening was more of a challenge. We wanted something evergreen with a moderate ultimate height. We placed Fargesia rufa, a low, clumping bamboo, at locations where it would provide screening without feeling obtrusive or hedge-like.
Simple, minimal design, in other words, is deceptively hard work. But well worthwhile. Eight years after all of that thinking, digging and string-lining, this garden remains a highlight of our portfolio and a reminder that sometimes less is more.